The ESECA partnership is organising its first business mission to Senegal, from 3 to 7 July 2023, with the aim of intensifying collaboration between European and Senegalese companies operating in the renewable energy and smart grid sectors.
Join the first business mission to Senegal organised by the ESECA partnership, in which LE2C is a partner, for the first week of July 2023, from the 3rd to the 7th.
The mission will include an event with key local stakeholders invited to present the country's opportunities, visits to organisations and facilities, and ad hoc B2B meetings for European companies with possible Senegalese clients/partners.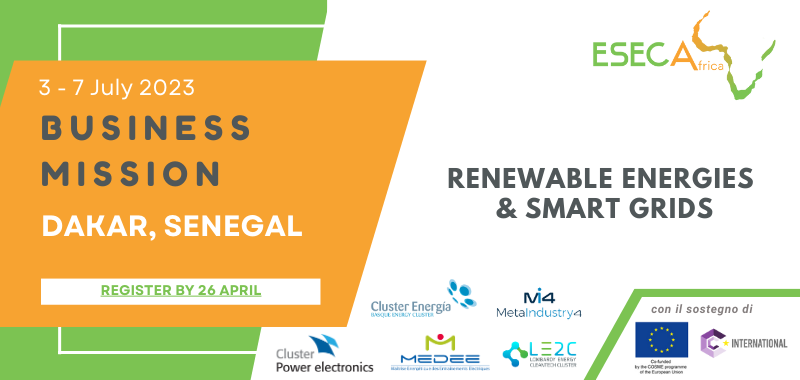 PRELIMINARY MISSION AGENDA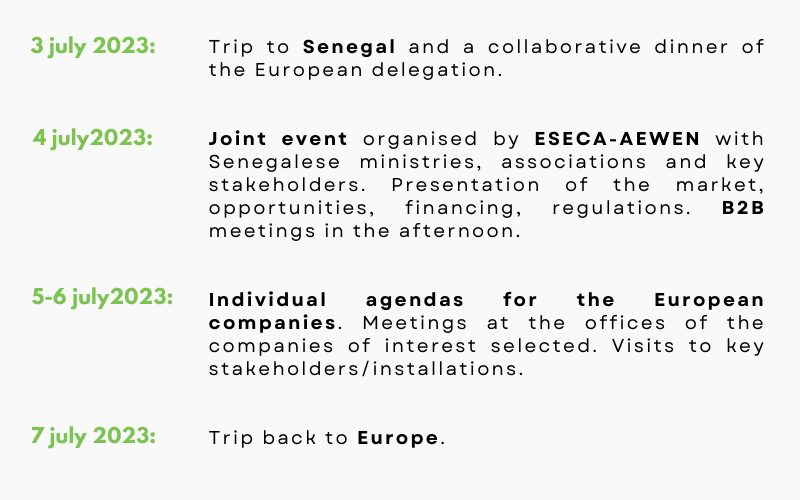 EXPRESSION OF INTEREST
In order to gather your interest in the mission and the necessary information to start working on these agendas, we invite you to fill out this simple registration form. The deadline for submitting the form is 26 April 2023.
ESECA will finance accommodation costs during the mission for LE2C Cluster members recognised as SMEs.
ENERGY OPPORTUNITIES IN SENEGAL
Senegal has ongoing plans for the deployment of renewable energy systems, both solar and wind, and plans for the development of a smarter smart grid system that will include the implementation of renewable energy parks. In addition, the country has several funding programmes for the development of projects in these areas. Senegalese companies are looking for European companies willing to collaborate in smart grid, microgrid, storage and renewable energy generation systems that will provide greener energy consumption. Currently, Senegal generates 80 per cent of its electricity from non-renewable energy.
Download the executive summary produced by the ESECA project on Senegal's energy market.
**The full market report will be made available to companies participating in the mission.**
Download the EXECUTIVE SUMMARY on Senegal's energy market.
For more information and travel arrangements contact s.brembati@energycluster.it.